Our kitchen serves modern British pub fare using fresh and locally sourced ingredients. With a variety of smaller sharing plates and hearty mains on offer, you need never go hungry! On Sundays you can expect traditional Sunday roasts with all the trimmings, and throughout the week we will serve homemade bar snacks in addition to our main menu.
FOOD MENUS
Please note: Some dishes may change from day to day depending on seasonal availability of produce.
Please advise us of any dietary needs or allergies.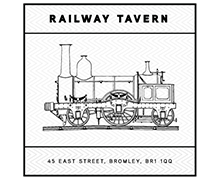 White Wine

250 ml

175 ml

Bottle

Abilius Blanco, Spain
£5.25
£3.95
£15.95
Light, crisp white made from Airen grapes on the palate hints of white fruit and citrus notes
Vina San Esteban Sauvignon Blanc, Chile
£5.50
£4.15
£16.25
A great Chilean sauvignon with typical tropical fruit and gooseberry on the palate. Zesty and fresh
Miedas Macabeo, Spain
£5.95
£4.75
£18.25
Also known as Viura, lively fresh, crisp, lemon, with hints of tropical fruits
Cuvee Prestige, Picpoul de Pinet, Languedoc, France
£6.20
£5.00
£21.00
Aromatic wine with a crisp firm backbone and lemon fruit, perfect with seafood
Versant Viognier, France
£22.00
Full, ripe wine; peach on the nose and palate, it has good weight and a clean long finish
Ophalum Albarino, Spain 2010
£23.00
Stone fruit character, dry, crisp, a typical food wine, best with seafood dishes, or white meats

Rose Wine

250 ml

175 ml

Bottle

Abilius Rose, Spain
£5.25
£3.95
£15.95
Vibrant, summer fruits, hints of strawberry, raspberry, refreshing
Les Olivades, France
£6.25
£4.75
£18.00
Garnacha and Temporanillo create a pinkish wine with freshness and acidity
Otero, Spanish (Blush)
£6.45
£5.00
£19.00
Lovely & Light. Aromas of Strawberry & Peach. Well balanced.
Griset, Sauvignon Gris, France
£19.50
A complex bouquet of orange and passion fruit aromas.

Red Wine

250 ml

175 ml

Bottle

Abilius Tinto, Spain
£5.25
£3.95
£15.95
Juicy red made from tempranillo, garnacha and cabernet, soft, mouth filling and easy drinking
Vina San Esteban, Cabernet Sauvignon, Chile
£5.50
£4.25
£16.25
A smooth and fruit driven wine with lots of blackcurrants and dark fruit
Reserve l'Abbe Cotes du Rhone, France 2011
£6.25
£4.75
£18.00
A great Rhone full of dark berry flavours enhanced by spice and chocolate notes
Montepulciano d'Abruzzo, Italy 2010
£6.75
£4.95
£19.00
Full bodied, complex aromas of raspberry and spice with a rich texture fantastic with Italian dishes
St Marc Merlot, France
£19.95
A rich and full style red with lots of ripe jammy fruit, hints of mocha, chocolate and pepper
Paco Garcia Rioja, Spain
£23.00
A stunning, deep, robust Rioja wine with a full body of plum and damson. Very powerful and long aftertaste

Sparkling and Champagne

125 ml

Bottle

Prosecco,
£5.00
£22.00
Smooth,soft , fresh and well balanced, with elegant aromas of pear and apple